Glenville High School and Gilmer County Basketball
by Patty Floyd Johnson
March 16, 2003
Here is a picture of a Glenville High School basketball team. My guess is the 1953-54 team. Hopefully one of it's members or someone who knows will let us know for sure. Glenville High School proudly had many good teams under the tutelage of Mr. Woodrow Wolfe during my time at Glenville in the late 40's and early 50's.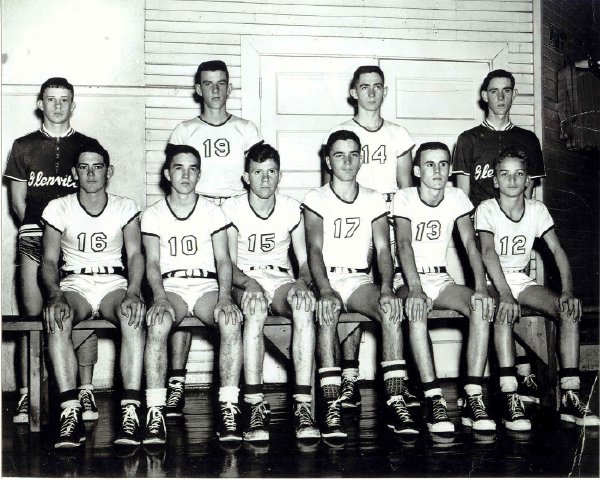 Players seated from L-R are:

Nelson Reed (#16), Larry Kight (#10), Kenneth Langford (#15), Billy Bell Lorentz (#17), Billy Joe Hewitt (#13), Howard Frymier (#12).

Standing from L-R are: Willard Ellyson, Paul Carr (#19), Leroy Stennett (#14) and Walter Lee Marks.
The schools colors were red and white and one of the school cheers was, "Woody, Woody is our coach, who no other can approach. If we win, or if we lose, Woody Wolfe is the coach we choose!"
That cheer was yelled to the rafters and was meant by one and all. I don't remember anyone walking out of the gymnasium because our team was behind, as a lot of parents and fans do these days. If Woody Wolfe was given a bad time by any adult, none of us kids knew it and I've never heard of it since I've become an adult. We supported our team! Coach Wolfe's pretty and pleasant wife, Eileen was his best supporter.
One of the highlights of the entire year was the high school tournament. There were five high schools in the county at that time: Sand Fork, Glenville, Troy, Tanner and Normantown. The tournament was hotly contested and the gymnasium, which our high school borrowed from Glenville State College, was always packed. When we played in the old gymnasium, which was torn down by Howard "Big Foot" Taylor and the Heflin Center was built on the spot, there would be people standing along the wall underneath the banking board and basket on one end of the floor and people standing stacked up against each other in both doorways. The bleachers were filled to capacity.
My husband, Cecil Johnson, who is a Calhouner but a graduate of Glenville State said he always regretted it when they consolidated the high schools in Gilmer County, because he got more enjoyment out of attending our tournament than anywhere else he watched basketball being played. Cec has always said he thought each one of those communities lost a lot when they lost their high school.
The college built the new Health and Physical Education Building and "wonder of wonders, miracle of miracles," we got to use their new gymnasium, which was first class. It had a balcony full of seats and there was not a vacant seat in the house. (We also got to use Glenville State's swimming pool and if you think that wasn't a treat for kids who had previously gone swimming in The Little Kanawha River, you are sadly mistaken.)
Glenville won the state tournament in 1941 and Normantown won it in 1945. This was quite an accomplishment considering the size of the schools they had to play and the size of schools from which they came. Some of the quality players to come out of Glenville, but by no means all, were Bob "Hooks" Hardman, Bob Turner, Bob Reed and Dick Barrett. Sorry but I don't know the names of the players on the 1941 team. I'm sure some of you out there know and will tell us.
The first year the county tournament was held in the new Health and Physical Education Building, Anne Lynne Hickman, Mildred Nocida, Ina Furr and I were cheerleaders for Glenville. We made Barbara Clark Coutu Simmons our mascot. The team name was The Red Terrors, (Indians). We dressed Barbara up in what passed for buckskin, moccasins, put a lot of makeup on her face, tied a band around her head and stuck three feathers in it and our Indian was born. I believe we found a tambourine for her and she pounded out the beat on it. Barbara was the only one of us who could do a split, so we availed ourselves of her talents. I truly don't remember who won or lost. I do remember we had a barrel of fun. The competition was fierce but I don't believe it was laced with enmity as it seems to be today. Maybe that is just my "old woman's" selective memory but that's the way I remember it. As I've often said, I try awfully hard not to step on the memories of others, unless they are blatantly rewriting History. Each and every detail may not be the same, the details may not be one hundred percent accurate, but the essence of the memory is very real and is valued by the holder. We should respect each other's memories just as we should respect each other. We should also respect our past enough to record it with all the rich, pithy, earthy elements that created our memories for us.
The very first high school in Gilmer County was at Sand Fork. It was built in 1920. Here is a picture of the 1927 basketball team, which happens to be the year the YMCA building was torn down at Bower, the materials brought to Sand Fork and a nice gymnasium was reconstructed. That gymnasium is still standing today and appears to be in good condition. Sand Fork's colors were gold and royal blue and they were known as the Sand Fork Lions.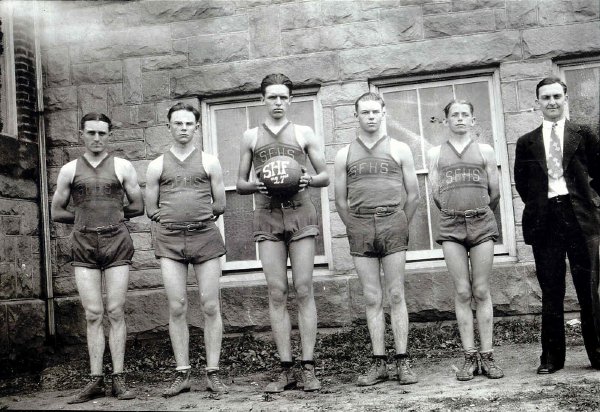 L-R; Arthur Moore, Hall Harvey, Otto Greynolds, Harold Burke & Coach Van Horn
Standing from left to right: Arthur Moore, who became an educator of some renown in Gilmer County, Hall Harvey, Otto Greynolds, who married Claudia Wiant my third grade teacher at Sand Fork, fathered Larry Greynolds a basketball player of some skill. Both Larry and his father died young and suddenly of a massive heart attack. Alton Peters, became the coach of the Sand Fork Lions, that I remember. Alton was known for silently and seemingly dispassionately watching the game. He produced some good ball teams. Harold Burke, son of Roman and Flossie Burke and Coach Van Horn. That year Moore and Greynolds graduated and my Dad, Jesse L. Floyd, Jr., played with the other three. He played guard and I don't know the other player's name. I know my Dad was an awfully smart man, but he hated school and claimed he only attended so he could play ball. That is true for a lot of youngsters.
Dad did tell an interesting and funny story. Somehow Sand Fork had managed to get into a tournament in Braxton County. They had to walk there and walk back. They had no such high hopes of winning the thing. Coach Van Horn believed his players should eat lightly before a game.
Applesauce was the only dish in their diet. Well, they won the first game. No one was more surprised than they. So they were taken off to rest before they had to play again and eat more applesauce. They won the next game. And the same tactic and meal was served. They were in the finals. They played hard. They were a scrappy bunch. They lost by one point. Dad said he'd often thought, if they'd had anything to eat besides applesauce, they might have won the title. His amused expression made it plain he held no hard feelings. My mother and Dad said they never missed a ball game. When my siblings and I were small, our Aunt Lucille, Dad's sister, usually kept us.
I have learned a lot from Robert J. Butcher's submission to The Gilmer County West Virginia History Book 1845 – 1989 about the schools, ball teams, players, teachers, administrators and other points of interest about Glenville and other areas of Gilmer County. If you haven't read it, I highly recommend it. If you don't own one, try to borrow one. Perhaps the Gilmer County Historical Society will once again have them for sale and you can purchase one of your own.
Submitted for Publication on The Glenville High School Alumni Web Site
Patty Floyd Johnson